---
Celebrating over 15,000 jobs done this year.
•

Automated Residential Roof Structural reports. Easy to use online data input.
•


Tens of thousands of products in our database

3 to 5 hour turnaround time for sealed report and plan set. Upload your plans and photos - we review / sign / seal.
Absolute lowest fees in the Residential PV industry.

•

AutoCADtm integration. Automatically insert: project data, owner and location information, key maps, structural notes, inverters, electrical calculation tables, wire and breaker sizes, and product cut sheets and more.
•

PE Licenses in 34 US states.
•

Automatic BOM's. Post Installation Affidavits and select state construction permits.
•

Electrical calculations including wire and breaker sizing.
•

API integration with CRM for automated job creation.
•

Wind / Snow / building code verification.>
•

Patent Pending
Use the online iRooFA TM data intake form to enter field data and the proposed array on the roof structure.

Even use your tablet or smartphone to submit projects from the field!

For one low fee per project iRooFA TM gives you:
Error checking on your plan set's framing and electrical designs
Review of your plans for structural upgrades, code conformance and electrical design
iRooFA TM structural engineering report with our Professional Engineer's Seal AND e-Signature
Our Professional Engineer's Seal AND e-Signature on your Plan Set
Completed standard building permit forms
iRooFA
TM
INSTANTLY
tells you if the roof can support a PV solar installation
identifies problems and tells you how to strengthen a weak roof
specifies minimum racking lag bolt requirements
Use iRooFA TM as a design tool, performing different layout trials to minimize any required supplemental roof structure.
Deliverables:
The iRooFA TM structural engineering report is signed / sealed / eSigned by our licensed Professional Engineers.
Your structural AND electrical plans are reviewed then signed / sealed / eSigned by our licensed Professional Engineers.
Standard building permit forms are automatically filled in by iRooFA TM.
We also offer Post Installation document review and certifications.
iRooFA TM is used by:
Solar Contractors
Permitting Teams
Licensed Engineers
Registered Architects
iRooFA
TM
offers 4 types of structural analysis:
Standard Roof Framing
Truss Roof Framing
Roof Analyses for No-snow Areas
Ground Mounts
iRooFA
TM
's large database of equipment and building materials includes:
PV Solar Modules
Solar Rack Mounts
Roofing Materials
Framing Lumber Species
Princeton Engineering offers iRooFA TM in 34 states: AL, AZ, CA, CO, CT, DC, DE, FL, GA, IL, IN, LA, MA, MD, MI, MN, MS, NC, NH, NJ, NM, NY, NV, OH, OR, PA, RI, SC, TX, UT, VA, VT, WI and WV. These active licenses are highlighted in orange in the below map. Pending licenses are shown in green.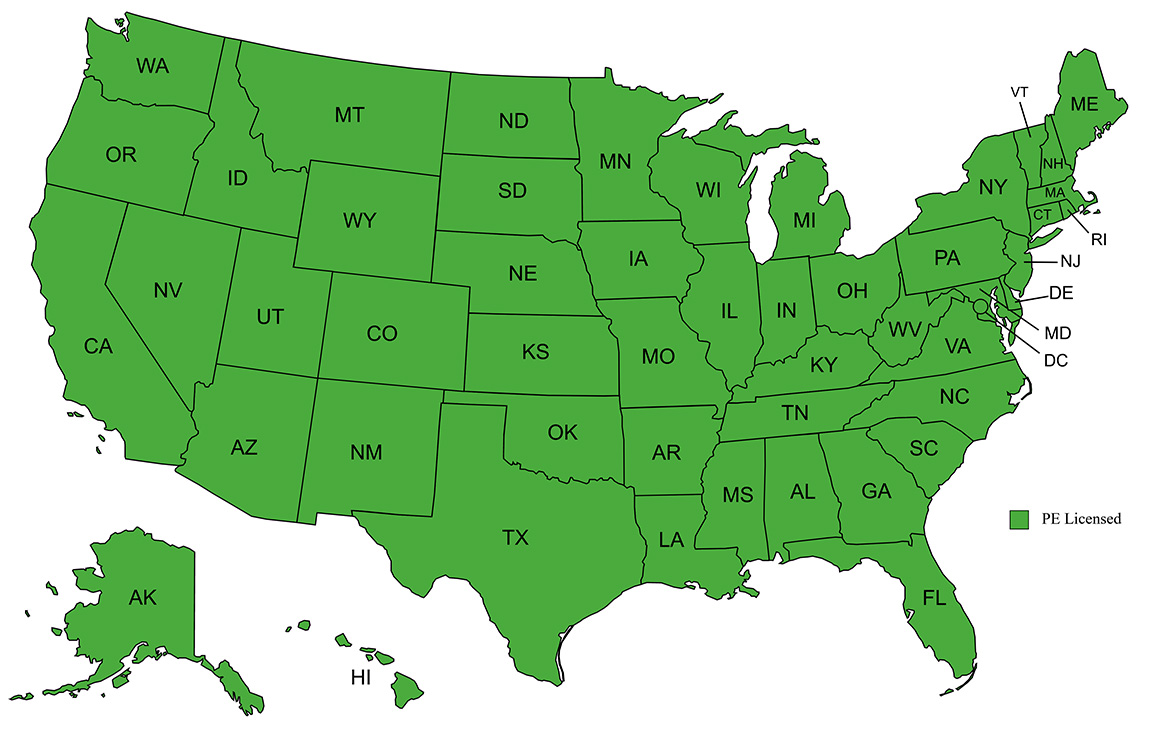 ---